An AFRC-GSJ/AIST (Active Fault Research Center - Geological Survey of Japan) and MTA (General Directorate of Mineral Research and Exploration, Turkey) joint team is now working in trenches on the North Anatolian fault at Ardicli, 15 km east of Gerede. The Ardicli site is to be the Palette Creek of the North Anatolian fault for the stratigraphy and abundance of dating materials. In 1990, Okumura et al. (1990, 1993) opened a trench here as the first multi-event and multi-date, successful trench on the North Anatolian fault.
The purpose of the 2002 survey is (1) to supplement the 1990 data and then to finalize the study of the rupture history in the site, (2) to estimate past slip-per-event at Ardicli and the vicinity, and (3) to re-evaluate slip distribution along the entire length of the 1994 ruptures. This information is valuable to understand the nature of recurrent earthquakes in general.
At the same time, this survey is a crucial preparatory work for the 2003 Professional Workshop on Paleoseismology [Trench Olympic by AFRC and MTA] --the title is not fixed yet-- to be held for a week in late August to mid September 2003 on the occasion of the International Workshop on the North Anatolian and East Anatolian Fault Systems [in Ankara, September 1st through 3rd 2003, jointly by Middle East Technical University, AFRC, and MTA].
The purpose of the Trench Olympic is to standardize and to innovate the trenching method and to summarize recent and ongoing paleoseismology of the North Anatolian fault for further advance. We are going to distribute the complete topographic and geologic data of the site to the participants to design the best strategy for 2D and 3D trenching. The Olympic will start as a design competition and end in thorough discussion in and in front of the trenches. Details will be announced early 2003. The Olympic will coincide with a training course of paleoseismology planned as a part of the International Workshop. The summer of Gerede in 2003 will be extremely hot for the geology of earthquakes.
Now, please excite your imagination and speculate for the ideal trenching here in Ardicli. with following figures that might help your dream.
The 1990 trench showed almost pure strike slip without any tensile or compressional deformation outside a very narrow fault zone [as if you cut a piece of cake with a sharp knife]. We were forced to interpret earthquake events on such indirect evidence as sedimentation and gently tilted layers. As well, AMS dating technique was not available in Japan in 1990.
The 2002 trench is excavated into a light-toned spot beside the fault trace in dark-colored marsh on a black and white 1;10,000 airphoto. This possibly less-permeable subsurface mass turned out as a small dome or anticline of silty clay deposit. The pressure ridge has been completely gone artificially or by erosion. There is minor, but distinctive compressional deformation in and around the new trench only 18 m east of the 1990 trench. At this moment, 3 recent events are clearly recognized from discrete upper terminations of subsidiary faults.
We welcome everybody to our daily trench party in Ardicli. We are going to work in the trench at least August 15th and probably until August 20th. Please send an e-mail to Koji or call Esentepe Otel in Gerede [TEL: +90-312-418-9099, FAX: +90-312-417-0382]. E-mail: kojiok@hiroshima-u.ac.jp
In case you plan or you will plan to conduct geological or geophysical research at Ardicli, it will be very kind of you to contact us beforehand. Your kind cooperation and coordination for the Trench Olympic shall be greatly appreciated.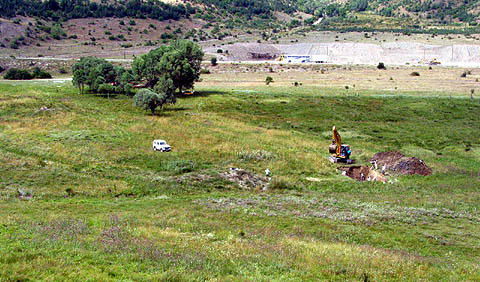 1990 trench in front of the white vehicle. An offset stream to the left.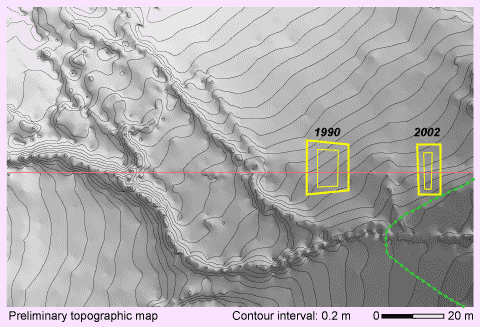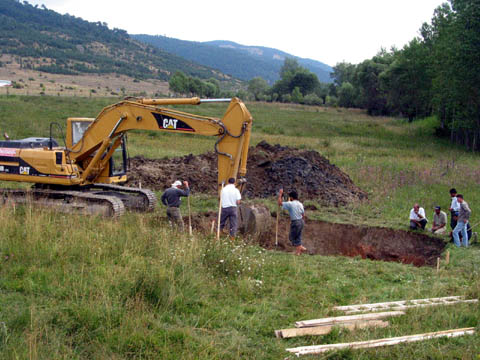 A Turkish operator learns how to dig delicately with the little finger of a bucket.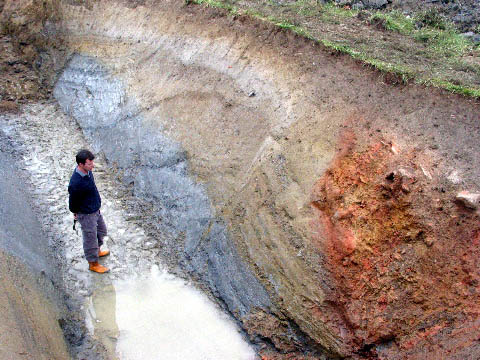 Anticlinal deformation on east wall. A brick kiln fortunately missed the fault.



Careful watering lets the fault grow (left), An entire pine tree was lying under a trench floor, ideal for highest-precision 14C and wiggle-mathcing.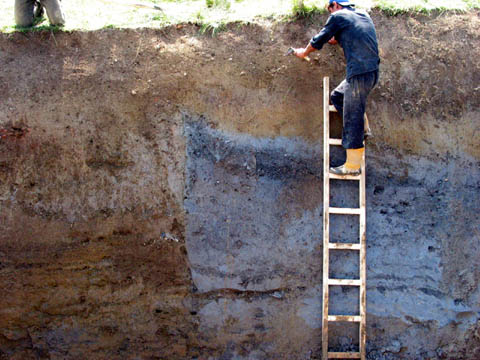 The fault is as clear and as neat as it's ought to be in a Koji's trench.